The Worst Thing About Mondays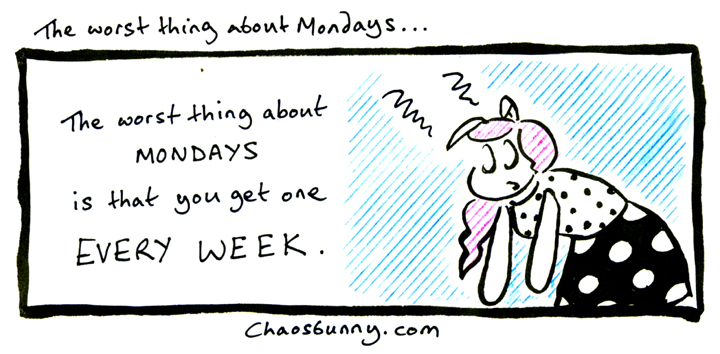 The worst thing about Mondays is that you get one EVERY WEEK.
---
---
About this comic:
Cower in slightly sarcastic fear! Jim the Chaosbunny is an artist by trade, geek by inclination and full-time embodiment of entropy by nature. She has no intention whatsoever of growing up, but fully intends to take over the world.
Chaosbunnies thrive on a steady diet of polka dots, tea, cuddles and intellectual discussion.
Jim and Tonic is an autobiographical web comic by
Maxine Green
that's been described as cute, geeky, quirky and silly, and occasionally poignant. If you're a fan of xkcd or The Devil's Panties you'll probably enjoy the humour.
The author would like everyone to know that she is in fact terrifying and scary, and definitely *not* cute.
---
Jim and Tonic web design, content and images belong to
Maxine Green
(Jim is short for Maxine)
Users should also be aware of the policy on
cookies
---

- Find me on Facebook

- Chaosbunny on Twitter

- RSS